-by Rachel Marino Noto, RN, LE
According to the 2020 RealSelf Sun Safety Report, 62% of Americans use anti-aging products as part of their daily skincare routine, but only 11% wear sunscreen daily!
But It's Winter Now, Do I Really Need Sunscreen?
While most people know to apply sunscreen in the warmer months when they are out in the sun, many people do not think that it is as important or even necessary in the winter. The matter of the fact is that even though the sun's rays may not feel as strong or warm in the winter, the UV rays continue to break down your skin cells, regardless of the change in season. This type of damage is called photoaging.
Without the proper use of sunscreen, it can lead to premature aging such as fine lines, wrinkles, discoloration, blotchiness and, most importantly, skin cancer.
It is also important to understand that you can get UV sun damage from the snow reflection. Up to 90% of sunrays are reflected on snow and cause photoaging, increasing the intensity in the winter on skin that is unprotected.
How Do I Choose the Right Sunscreen For Me?
So, what type of sunscreen is best for me? What strength, and how often should I apply it?
It is important to know that there are chemical and physical (mineral) sunscreens. Physical (mineral) sunscreens contain zine oxide and titanium dioxide, where chemical sunscreens contain avobenzone, octinoxate, oxybenzone, and more. Mineral sunscreens reflect the UV rays at the surface of the skin, where chemical sunscreens absorb the UV rays, break them down, and convert them into heat.
Physical sunscreens tend to be less irritating and perfect for sensitive skin, while chemical sunscreens are good for physical activity and fast absorption.
Depending on which formulation you decide is best for you, there are key factors to keep in mind when choosing your perfect sunscreen. Make sure it is:
A broad spectrum SPF (protects against UVA and UVB rays)
Paraben free to decrease irritation
A minimum of SPF 30 (protects up to 97% of rays)
Applying sunscreen should be your last step after your skincare routine. Allow your skincare to absorb into the skin and settle before layering your sunscreen to allow optimal application.
Sunscreens We Carry at Q the Medical Spa
We have many approved sunscreens here at Q Med Spa to help you stay sun safe.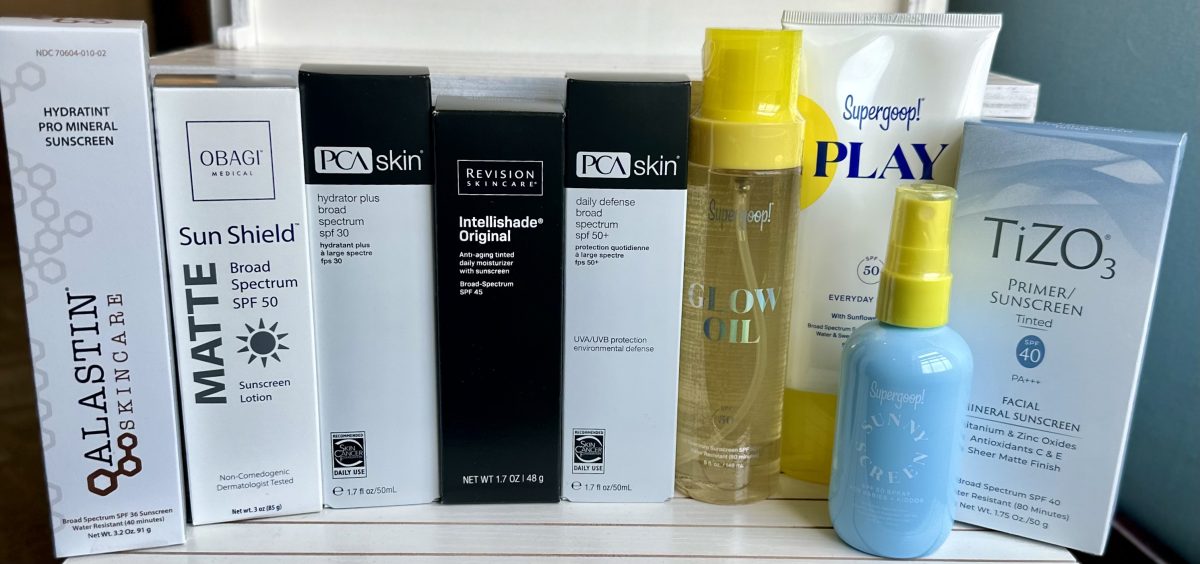 TIZO3 Primer Sunscreen: SPF 40 broad spectrum mineral sunscreen, water resistant, sheer matte finish, tinted
Revision Intellishade Original: Anti-aging formulation containing peptides, SPF 45 broad spectrum mineral and chemical sunscreen, tinted
PCA Daily Defense: SPF 50+ broad spectrum mineral and chemical sunscreen
PCA Hydrator Plus: SPF 30 broad spectrum mineral and chemical sunscreen
Supergoop Play Everyday Lotion: SPF 50 broad spectrum chemical sunscreen, water and sweat resistant, sunflower extract, vegan
Supergoop Play 100% Mineral Body Mist: SPF 30, marigold extract, water resistant, vegan
Supergoop Lip Balm Sunscreen: SPF 40 broad spectrum, vegan, can be used alone or on top of favorite lip product
Supergoop Glow Oil: SPF 50 broad spectrum, water resistant, lightweight, non-greasy, sun glow finish
Supergoop Sunny Screen for babies and kiddos: SPF 50 mineral sunscreen, water resistant
Alastin Hydratint Pro Mineral Sunscreen: SPF 36 broad spectrum, water resistant, tinted
Obagi Sun Shield: SPF 50 broad spectrum mineral and chemical sunscreen, matte finish, non-comedogenic, sheer finish
To purchase, call or visit one of our Med Spa locations or our online store.